Hire Removals 24-7 UK's house moving services, the best in the area. We offer a highly professional service so that your house moving works out safe and sound. We from Removals 24-7 UK know that house moving is not that easy, especially when it is the first time you do it. Knowing that, we made up a list of things you need to look for when hiring a house moving company.
House Moving: 3 important cares
1 – Attentive eyes on what the company is offering you. Are they only offering you a fast house moving? When moving, you should consider quality rather than agility. Sometimes, and almost always, having a fast service may end up in undesirable items and furniture damages or losses. And you will not want that, right? So, hire a company that offers highly qualified and professional movers who are going to take really good care of your stuff and use the proper tools for removing your stuff from the house and transporting them into the vehicle.
2 – Does this company use the adequate material for packing and boxing your stuff? Assuming it is the first time you are moving, there is some special care you need to take. We call it safe and conscious packing. Make sure you or the company members you have hired are using bubble plastic for wrapping the items, which will prevent scratches, cracks or even broken stuff.
3 – Remember Quantity is not Quality. Pilling up boxes may not be the wisest idea since you need to know that heavy items don't match with delicate items, which may result in total loss of the item.
After making sure you followed these three important steps, you are ready to get to know y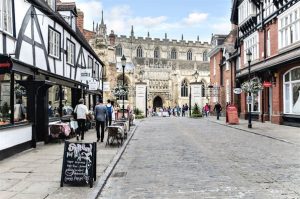 our soon to be home.
Did you know that Gloucester is very famous for the festivals that happen there? There is the Three Choirs Festival, which was originated in the 18th century, being one of the oldest music festivals in the British Isles. There is also the Gloucester International Rhythm and Blues Festival, which happens at the end of July. How cool is that? You could also visit the Gloucester Cathedral, which was used for some scenes in the films of Harry Potter! Wow, that's huge, innit?
If you are imagining what life would be like in this marvellous city, then you should contact us immediately and let our house moving service make it happen for you.