Removals 24-7 UK are here to offer the best Home Removal Service West End of London, providing everything you will need, from removing and packing to transporting and delivering. A top-notch service, quality assured! Safety and Professionalism are our main characteristics. Are you fed up with furniture damages and special items losses when house moving? That must be quite hard to deal with when you finally settle down and try to find that very important thing and can't find it, innit? Worry you not! Your problems are over. Removals 24-7 UK's Home Removal Service is going to take care of that for you, making sure every single stuff that leaves your home will make it safe and sound to your new destination without any damages or losses.
Considering a life in West End of London?
So, you are new in West End of London? Well, in case you are, we from Removals 24-7 UK are going to give a short list with a few things you can do in West End of London after settling down here or, why not while moving? You could take a break  and stop by Soho and go around this awesome neighbourhood while we do the heavy work for you.
West End of London is quite famous for the cultural and amazing variety of things you could do, specially in Soho. Here are a few nice things you can do in Soho, West End of London.
If you like shopping you are going to love Soho's famous shops such as Liberty, OTHER, Absolute Vintage, Beyond Retro and Paul Smith Soho. You know, the list could go on and on for hours. There you can find from clothes to books.
Now if you are more into having some really good laughs and want to laugh it through the night, you are g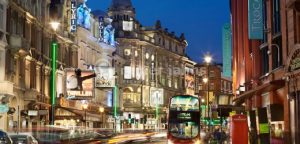 oing to love the comedy houses in Soho such as the Soho Comedy Club – Ku Bar & Club, Comedy at Soho HO – Slug and Lettuce, Amused Moose Soho. Some of them also happen in theatres, for example at the Soho Theatre.
Do you like the night life? Having some icy cold beer and enjoy really good music from all styles and decades, how does it sound? Great, innit? You are going to love the music houses in Soho: 12 Bar Club, Borderline, Pizza Express Jazz Club, Ain't Nothing But Blues Bar and so many other you can find.
If want to have a funny night with the family, you could also go to Theatres and Cinemas. There are great options for you all have some really nice time together: Prince Charles Cinema, Prince Edward Theatre, Apollo Shaftesbury and some other options.
How great is that? If you caught yourself daydreaming about what life is like over here, that means you are on the right way. Do not make it a dream, make it an action. Hire Removals 24-7 UK's Home Removal service and give the first kick ahead towards the goal.
We are willing to make it happen for you!
Contact us for a free quotation and get to know more about us: